84 min - Dir: Aoife Kelleher with: Shane MacThomais
:: Guest Speaker: We'll have a pre-recorded video introduction from the Director, Aoife Kelleher, for our audience.
Aoife Kelleher's One Million Dubliners is a dauntingly comprehensive and beautifully filmed study of the space. There are amusing and disconcerting observations about the shifting hierarchies of celebrity.
Homage to Glasnevin is a dead-cert winner. www.irishtimes.com [Donald Clarke]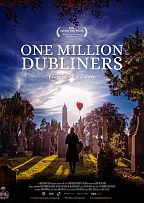 It seems so obvious now. We have, without knowing it, been crying out for a documentary on the myths, legends and everyday eccentricities of Glasnevin Cemetery. Opened in 1832 (more recently than one may have guessed), the largest multi-denominational graveyard in Ireland protects the remains of some 1.5 million Dubliners. There are all sorts in there. Prominent Republicans attract pilgrims. Earlier this year various loons shouted at President Higgins for daring to honour the first World War dead.
"Michael Collins is definitely very popular. He gets balloons, flowers," the lady in the flower kiosk explains. "De Valera a bit. But definitely not as much as Michael Collins." Indeed, a devoted French lady - won over to the Collins cause by Neil Jordan's film - has taken to tending the late rebel's grave devotedly. There's some sort of revenge there for the big fellow.
Elsewhere, a pint of Guinness sits by Brendan Behan's gravestone. We are talked through the mechanics of burial and the economics of graveyard real estate. Even in death it seems that location means everything.
Kelleher gets to every corner. We meet the staff and ponder their own feelings about mortality. Some have become blasé. At least one suggests that you never get used to the inevitable human catastrophe.
The hero of the piece is, surely, Shane MacThomais, the indomitable Glasnevin historian, who acts as our guide throughout the film. In an irony that hardly needs explaining, the breathless enthusiast died shortly after the film finished shooting. One death weaves itself with tales of a million other deaths. This attractive film offers him fair tribute.
Moving, tactful, and confident about conveying the air of mystery at the heart of the film, One Million Dubliners has a quiet majesty and lingers long after viewing. www.rte.ie/ten [Paddy Kehoe]

Over 1.2 million people are buried in the 150 acres of Glasnevin cemetery, a vast amount of the dead, given that the population of County Dublin in 2013 was reckoned at 1,273,069.
200,000 visitors come to the cemetery each year, many of them to stand at the graves of figures such as Daniel O'Connell, and at the gravestones of Irish twentieth century heroes whose remains are buried there.
These include Michael Collins, Eamon De Valera, Countess Marcievicz, James Larkin, Maud Gonne McBride, Roger Casement, Arthur Griffith and Kevin Barry. Brendan Behan and Luke Kelly are also buried at Glasnevin.
Michael Collins' grave attracts the most visitors of all, and bouquets of flowers continually adorn the grave. "A lot of foreign people fell in love with him from the movie," says the woman who runs the florist shop. A young girl once came for a week's holiday and visited Collins' grave every day. She said she would never marry because no man would come up to his standard.
Veronique, a Frenchwoman explains her fascination with Collins. She has been visiting the grave six or seven times a year sometimes since 2001.
Cemetery guide and historian Shane Mac Thomáis is a valuable contributor to One Million Dubliners, presenting the story in an easy, accessible way.
The cemetery was founded in 1832, and the first burial took place at Glasnevin, on February 22 of that year. The deceased was Michael Carey, an 11-year-old boy from Dublin's Francis Street. In 1849 a cholera outbreak saw significant activity, the bodies of the deceased covered in quicklime for fear of contagion.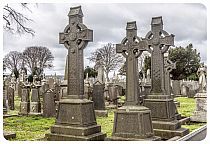 In the early years, the poorer of Dublin's citizens were buried in Glasnevin; the more prosperous families came later, and each iconic figure buried, notable now in the annals of history, raised the status of the cemetery.
The film moves very subtly from what up to a certain point has seemed to be a standard documentary about Irish history and graves, to become one which is suffused with contemporary human interest.
You sense the new direction in the film in the first of these stories, the daughter who comes to see her mother's grave, each Saturday and Sunday, four years after the Ballymun woman's early death at 35 in 2010. The young girl - herself a mother - says that she prefers to visit on a sunny day. In fact, she is filmed on a blowy, wintry St Valentine's Day, a very important day for many visitors to Glasnevin cemetery.
Kelleher also employs some gorgeous cinematography, capturing the cemetery in a warm, sunset-y glow that defies the grey tombstones and brown dirt to make the site seem almost magically beautiful.
First things first, whoever came up with this movie's poster tagline - "Every Plot Has A Story" - deserves some kind of award. entertainment.ie