89 min - Dir: Stephen Brown with Ciarán Hinds, Charlotte Rampling, Natascha McElhone, Rufus Sewell, Sinéad Cusack, Matthew Dillon, Bonnie Wright, Missy Keating, Padhraig Parkinson, Ruth Bradley, Karl Johnson, Mark Huberman, Stephen Cromwell, Amy Molloy.
:: Guest Speaker:
The Sea tells the story of Max Morden (Ciarán Hinds) as he returns to the sleepy seaside resort of his youth, to attempt to deal with the loss of his wife Anna (Sinéad Cusack); a haunting, uplifting, meditation on the human condition - at times elegiac, poetic and nostalgic. A story of memory, love, loss, regret... and the persistent possibility of rebirth. - Independent Film Company

Despite its dark themes, The Sea is ultimately uplifting. Max is on a voyage of discovery. "I find Max's journey fascinating. Everything we do as adults is predicated on our childhood experiences. It dictates so many decisions we take in adult life." - Sinéad Cusack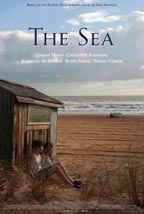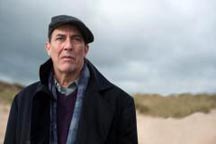 The Sea, a Wexford-shot adaptation, is a 2013 British drama film directed by Stephen Brown. It is based on the novel of the same name by John Banville, who also wrote the screenplay for the film. The Sea (2005) was the eighteenth novel by Irish writer John Banville, and won the 2005 Man Booker Prize.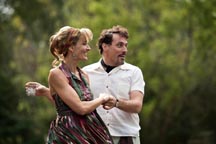 Shot by d.p. John Conroy in a fluid, golden-filtered style that works in stark contrast to the pic's otherwise still, somber compositions - effectively suggesting the manipulative qualities of memory - these period sequences detail the working-class boy's fascination with the Graces, a wealthy family holidaying in what has since become the boarding house.

After befriending them on the beach, Max is effectively adopted for the vacation by well-meaning Connie Grace (Natascha McElhone) and her louche husband, Carlos (Rufus Sewell), as a novel plaything for their spoiled, rather unpleasant twins, who run rings around their fragile, distracted young nanny, Rose (Bonnie Wright). While Max is besotted with Connie, it's chilly, Estella-like female twin Chloe (Missy Keating) who prods the boy's sexual awakening. More heated desires elsewhere in the family, meanwhile, edge the summer toward a tragic - and for Max, profoundly affecting - close.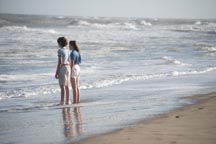 Though a final-reel revelation is perhaps too easily telegraphed (in part via Kathy Strachan's precise costumes), Brown and editor Stephen O'Connell do a deft job of keeping these three narrative strands aloft across a tidy 86 minutes, while rendering their variously unhappy tones pleasingly distinct. Andrew Hewitt's elegant score, graced with a number of arrestingly mournful solos by young violin virtuoso Hilary Hahn, provides further assistance in this regard.
Afforded the least, but most searing, screen time are Anna's final days, which economically imply longer-running problems in Max's marriage. In a uniformly strong cast, a superbly terse Cusack cuts that little bit deeper as a dying woman who understandably has no time for her husband's hovering pain. Variety - Guy Lodge