Seasons...
•

•

•


1994

Ciné Gael Montréal Irish Film Series 1994
Our 1994 Season opened later than any other season we've scheduled, but nonetheless, it went from strength to strength, with wonderful films from great writers and screenwriters the likes of Bernard McLaverty, Sean Ó Faolain, William Trevor, Jim Sheridan and the great Will Shakespeare.

For our closing Gala, we screened Shakespeare's "Othello", with Orson Welles directing and in the lead role, together with Micheál Mac Liammóir and Montreal's Suzanne Cloutier. Ms Cloutier arrived, on the arm of P.E. Trudeau, and regaled us with her stories of the famous filming of this great work.
We screened the classic Odd Man Out in an evening of Cyril Cusack films, something we'd repeat in our 19th season. And we screened modern classics like Cal and Lamb.
A memorable season with guest speakers who gave all of us an enriched enjoyment of the screenings. This is our film schedule flyer for 1994, front and back.

March 3
 :: Opening Evening of Season
The Woman Who Married Clark Gable
(1985)
28mins Dir: Thaddeus O'Sullivan
more at TCD

with Bob Hoskins, Brenda Fricker, Peter Caffrey.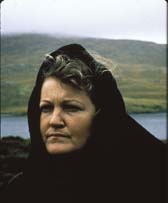 From the director of last season's December Bride, a Sean Ó Faolain story of George, a Protestant Londoner played by Bob Hoskins, married to a Catholic Irishwoman named Mary, played by Oscar-winner Brenda Fricker. Their uneventful life in l930's Dublin suddenly takes a bizarre turn when George grows a pencil moustache as a result of seeing a Clarke Gable movie.
Attracta
(1983)
55 mins Dir: Kiernan Hickey
with Wendy Hiller, Kate Thompson, Joe McPartland.
Considered by some to be the greatest living writer of English. fiction, William Trevor adapted his own short story, in which Dame Wendy Hiller stars as a Protestant school teacher whose parents were killed by the old IRA. Upon hearing another woman's story of the death of her husband at the hands of the current IRA, Trevor carefully charts Attracta's descent into madness.

Vanier English Professor Denis Sampson introduced the films.
March 10
Yeats Country
(1965)
18 mins Dir: Patrick Carey
The first and most famous chapter in an acclaimed documentary series on Ireland's landscapes and traditions, featuring the music of Brian Boydell.


Cal
(1984)
102 mins Dir: Pat O'Connor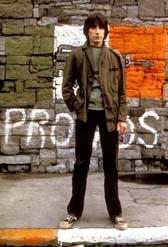 with Helen Mirren, John Lynch, Donal McCann, John Kavanagh, Ray McAnally; novel and screenplay by Bernard MacLaverty.

Helen Mirren (best known for the recurring mini-series "Prime Suspect" on PBS) stars as an older widow whose husband is murdered by the IRA and who unknowingly becomes involved with a young man involved in her husband's death. A gripping and intelligent psychological drama set in contemporary northern Ireland with John Lynch in his first film role.

Journalist and filmmaker Brian Mckenna was the guest speaker.
March 24
Into The West
(1993)
97 mins Dir: Mike Newell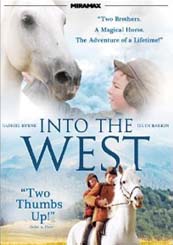 Real-life husband and wife Gabriel Byrne and Ellen Barkin star in one of the most acclaimed family films of 1993, directed by Mike Newell (Enchanted April) from a script by Jim Sheridan (In The Name of The Father).


The texture may be life among Ireland's "travelling people" but it is two young boys (Rúaidhrí Conroy and Ciarán Fitzgerald) and a great white stallion who steal the show as they turn running away from home into a mythic quest. All rounded out with David Kelly, Johnny Murphy, Colm Meaney, John Kavanagh and Brendan Gleeson.

Montreal Gazette Film Critic John Griffin introduced the film, the first of many film introductions by John, many of them at our season openers.
April 7
 :: An Evening With Cyril Cusack:
One of the most delightful actors ever to grace our stages and screens, the passing of Cyril Cusack is remembered by Cine Gael with two of his film performances, made 35 years apart, in and of itself an eloquent eulogy for the man's extraordinary talent.
7:00 PM Odd Man Out
(1947)
116 mins Dir: Carol Reed
with James Mason, Robert Newton, Kathleen Ryan, F.J. McCormick, Fay Compton, Denis O'Dea and Dan O'Herlihy


Cyril Cusack co-stars in this cinematic classic with some of the best Irish and British actors of his generation, in this incredibly suspenseful tale of an Irish rebel leader hunted by police following a daring robbery.
Directed with mastery by Carol Reed (The Third Man,Oliver, etc.)
9:00 PM True Confessions
(1981)
108 mins Dir: Ulu Grossbard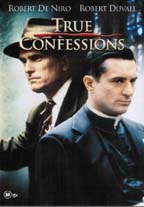 with Robert Duvall and Robert DeNiro and featuring a wonderful supporting cast that includes Burgess Meredith, Jeanette Nolan, Charles Durnin, Kenneth McMillan and Ed Flanders.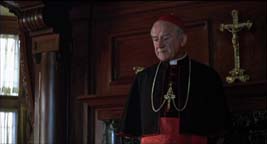 Cyril Cusack shows his grace and gifts up against Duvall and DeNiro who star as two brothers, one a hardened police detective, the other a power‑wielding Monsignor. John Gregory Dunne adapted his own novel and the results are a methodically slow but complex film.

Retired Concordia Audio-Visual Supervisor Ben Queenan introduced the first film.
April 21
Lamb
(1985)
110 mins Dir: Colin Gregg
read more at TCD

with Liam Neeson, Hugh O'Conor and Ian Bannen.

Adapted by Bernard McLaverty from his own novel and featuring the music of Van Morrison, 1994 Academy Award Nominee Liam Neeson stars alongside gifted child actor, Hugh O'Connor (My Left Foot), in a difficult story of affection between a runaway Brother and a child abused by his parents. A look into a world forever changed by The Boys of St. Vincent.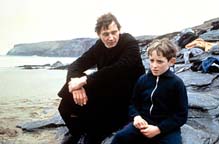 "From its opening scenes in a modern Dickensian home for throwaway children to its agonizing final sequence on a deserted beach, Colin Gregg's fine and disturbing film Lamb conveys a sinking feeling of dread. As this story of a man who recklessly sacrifices himself trying to save an emotionally damaged child unwinds, that dread steadily mounts.

Lamb focuses on the relationship between Brother Michael Lamb (Liam Neeson), a teacher in a Roman Catholic-run institution for troubled boys in Ireland, and 10-year-old Owen Kane (Hugh O'Conor), the school's most unruly pupil. Dumped into the institution by his abusive mother, Owen is an incorrigible mess who smokes cigarettes, curses, wets his bed, picks fights and has epileptic seizures.

Michael becomes fiercely protective of Owen after the boy is severely punished for an act of vandalism he insists he didn't commit. But the school's sadistic headmaster, Brother Benedict (Ian Bannen), doesn't care whether Owen is guilty or not. 'We'll never find the real culprit,' he admits before reiterating his motto, 'Discipline is love in disguise.'

Michael's witnessing of Brother Benedict's systematic cruelty erodes his already shaky faith. And when Michael's father dies, something inside him snaps. With part of the money from his meager inheritance, he flees the institution, taking Owen with him. Although Owen is glad to be away from the place, he utterly fails to comprehend that he has in effect been kidnapped." - Stephen Holden (New York Times)

Concordia University Film Professor, the late Marc Gervais, spoke about Lamb.
April 28
Othello
(1952)
91 mins Dir: Orson Welles
watch a clip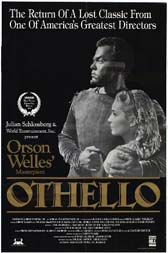 with Orson Welles, Micheál MacLiammóir, Suzanne Cloutier and Robert Coote.

This winner of the 1952 Cannes Film Festival's Palme D'Or was reprised by Cannes in 1992 upon discovery and complete refurbishing of the original negative.



Ciné Gael was proud to present the Montreal Premiere of this extraordinary film, featuring one of the most important theatrical personalities in the history of Irish theatre, Micheál MacLiammóir.

Michael MacLiammoir along with his partner, Hilton Edwards, founded Dublin's famous Gate Theatre where 19-year old Orson Welles made his stage debut. MacLiammoir is Iago to Welles' Othello in a production that was shot over three years and over at least two continents.

We were extremely honoured that Ms. Suzanne O'Hagan Cloutier (Desdemona) appeared to introduce the film and share her memories of Orson Welles, Micheál MacLiammóir, and her own experience at the Gate Theatre.