These shorts were selected by the committee's Dublin ex-pat, Dana Hearne.
 A poignant aside to that evening: Our fifth film of the evening was Fruit 15 by Claire Lynch. It was the only film she ever made as she was killed in a housefire in '93 while attending the 1993 Cork Festival.
Blinder, our sixth film was awarded Best First Film at the 1994 Cork Film Festival, an award which was established in memory of Claire Lynch. and some historical perspective:Our first film of the evening, Jack's Bicycle was made by John Moore. It was made in 1990, although with the closing of the Film Board in 1987, short and feature activity in Ireland was severely curtailed.
As a result, Moore founded ClingFilm, and turned to making commercials and was given the job of making an ad for the launch advertisement for Dreamcast. 20th Century Fox found it so impressive they gave him the $17 million (BTL) budget for Behind Enemy Lines and has gone on to make blockbusters including one in the Die Hard franchise.
So, good to challenge young filmmakers with hard times?
Introduced by Kathleen O'Hara, Ciné Gael Member and Founding Member of LINC.
 This is our flyer from that first shorts evening in 1995
...and we have Mick Lally, here on digital celluloid, who appeared in That's All Right, the final short of the evening, filmed and shown by us on 35mm, using short ends from the filming of The Dead.

---
Jack's Bicycle (1990) 9 mins, drama, BxW Dir: John Moore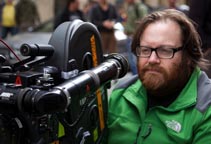 During World War II in Ireland young Jack is mocked by other kids on the street when he says that he's getting a bicycle. He goes to a bicycle shop where he is told that a bicycle would be too expensive for him. As he nears home he sees a soldier leave his home having given money and sausages to his mother. When he tells his mother that he saw a soldier give her money, she hits him.
 On another occasion when returning home he gag smiles when he also sees the married bicycle-shop owner leave his house. This proves to be his way of getting a bicycle. [TCD.ie]
Best Irish Short Award at the 1991 Cork Film Festival

---
Detour (1994) 20 mins, drama Dir: Robert Quinn
In the 1950s, a mysterious stranger on a motorcycle puts up posters in a forest advertising a circus. Three children observe his movements, but one of them finds an old gun and kills one of his companions. The stranger is set upon and beaten by locals, who think he is responsible for the killing.
 At the child's wake, the killer tries to tell his mother that he, and not the stranger, was responsible for the boy's death. [TCD.ie] ...watch Robert Quinn May 2013 'showreel'

Best Short Film 1994, Galway Film Fleadh
---
After '68 (1993) 25 mins, drama Dir: Steven Burke
In Derry, fourteen-year-old Frieda, the product of a brief liaison between a Catholic woman and a Protestant city councillor, Mr Craig, retells their story which begins in the 1960s. Though receiving money from Frieda's father, her mother goes to see Mrs Craig, Frieda's father's wife, who, to Frieda's discomfort, then visits her.


 At this time the Civil Rights struggle begins, and Frieda's mother is assaulted by the RUC during marches, including on the four-day march from Belfast to Derry which was ambushed at Burntollet Bridge by loyalists. Her father joins the newly-formed Ulster Defence Regiment, while in 1971 the Provisional IRA kill a soldier at the end of their street. By Bloody Sunday 1972, when thirteen civilians are killed by British soldiers, her mother can take no more and they move to a cottage across the border in Donegal.
 Her father is killed while on patrol and Frieda and her mother return to Derry for the funeral. On their way back to Donegal, Frieda sees an ex-boyfriend with a rifle at an IRA checkpoint in the city. [TCD.ie]
---
Booth (1992) 9 mins, comedy Dir: Petra Conroy
A few hilarious minutes in the life of a photo-booth..
Best Short Film Award at the 1992 Galway Film Fleadh
Best Fiction Film Award at the 1993 Irish Student Film Festival
Shown in RTE's Debut slot
---
Fruit 15 (1991) 15 mins, drama Dir: Claire Lynch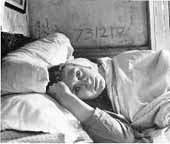 This film ponders the controversial issue of abortion in Ireland. A powerful story of immaculate conception as told by a mother's as yet unborn child. The only film ever made by Lynch.
 "Hi mom... er... I've something to tell you... eh... well, the fact is I'm to be the mother of the second messiah... er... yes heralding Armageddon... and you're to be his granny... well no I'm not marrying the father."
1991 Fuji Scholarship Awards for Best Overall Production
...and Most Promising Direction
....and Best Editing
Shown in RTE's First View and Debut slots
---
Blinder (1994) 13 mins, black comedy Dir: Eve Morrison

A light-hearted look at one man's struggle to overcome the loss of a very important part of his anatomy. A tragi-comedy about the way people deal with fear. A young Dubliner, Danny, has his first public outing since having one of his eyes removed.
 A young Dubliner, Danny, is out in public for the first time after an operation to remove an eye which was blinded in a childhood accident. Self-conscious and depressed, he remembers the events which led to his present predicament, but meets a busker with whom he shares a common eye complaint. [TCD.ie]
Best Overall Production category in the 1994 Fuji Scholarship Awards
the inaugural award of Best First Film at the 1994 Cork Film Festival
---
That's All Right
(1989) 5 mins, romance Dir: Billy McCannon
starring Mick Lally, Selina Gunnery …and Elvis Presley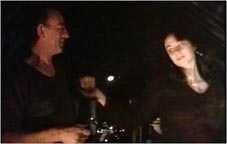 In a poignant moment, a couple relive old memories on the rainy night Elvis Presley dies.
 That's All Right is a multi award winning film which debuted by opening the Cork Film festival in 1989. It was widely exhibited at international festivals including Telluride in 1991.
 It was famously shot on 35mm for the paltry sum of £300 using short ends from John Huston's The Dead. ...watch film

debuted by opening the Cork Film festival in 1989