GUEST SPEAKERS: ANN MARIE CARROLL AND KESTER DYER

1) Full Circle (Simon Fitzmaurice, 2003)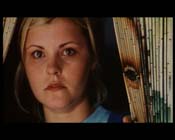 Full Circle is the story of a young man and woman living on the island of Ireland. Phillippa works in Marco's Chip Shop. Paul is the security guard of the bank across the road. Every day they watch each other from the safety of their private worlds. But one day it will happen.
- The Jimmy Stewart Memorial Award (Heartland Film Festival, 2004)
- The Orange and Kodak Award for Best Short Film (Belfast Film Festival, 2004)
- The Jameson Award for Best Irish Short Film (Cork International Film Festival, 2003)

2) Skeleton Woman (Edith Pieperhoff, 2004)
This is the haunting Inuit folktale of a fisherman who unwittingly hooks a skeleton. Terrified, he races home trailing the bones in his line, but as he sleeps the skeleton woman sings back human form.
- Winner, Best Short Animation (Galway Film Festival, 2004)
3) Falling Angels (Michael Kinirons, 2003)

On a day spent mitching from school, two teenage boys wander the city looking for fun and adventure. But just as the day is reaching a high they encounter a curious stranger who brings their burgeoning friendship to a head.
Falling Angels is a poignant, lyrical look at budding friendship, sexual confusion and personal acceptance; an attempt to capture the kicks, joy and darkness of life.

- Official Selection: Galway Film Fleadh 2004, Cork International Film Festival 2004, Tullamore Film Festival 2004, Belfast International Film Festival.
4) Undressing My Mother (Ken Wardrop, 2004)

Undressing my Mother is a poignant documentary that explores a woman's unique take on her overweight and aging body.
- Jameson Award for Best Irish Short (Cork Film Festival, 2004)
- Best Irish Short Documentary (Galway Film Festival, 2004)
5) Smalltalk (Ronan Burke, 2001)
Smalltalk: a beautiful blond girl is visited one night by man who is only four-inches tall. First she doesn't quite know what to do with him, but eventually falls for his charm and tenderness. An absolute, highly original delight! This beautiful short shows again that making short films is a genre in itself and not just a producing calling card.
-Winner, Student Film Award, 2002

6) Meeting Che Guevarra and the Man from Maybury Hill (Anthony Byrne, 2003)
When Beth stumbles across plans for a secret Martian invasion, her dream world turns upside down as she sets off to find the one man who can stop the 'War of the Worlds' and restore peace on our planet.
- Winner, Best Short Film (Irish Film and Television Awards 2003)
7) An Diog Is Faide (Hugh Farley, 2004)
The true story of a labourer, Sonnie Murphy from Co. Clare, who gets the chance to compete in the steeplechase in the 1932 Olympics. But for every dream there is a price.
- Winner, Gradam Gael Linn Award for Best Irish-language Short (Cork Film Festival, 2004)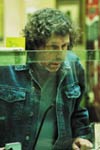 8) Fluent Dysphasia (Daniel O'Hara, 2004)
Murph doesn't have a lot to say to his fifteen-year-old daughter, Jane. When he wakes up one day, mysteriously speaking perfect Irish - which he never could before - and having forgotten how to speak English, he looks for help wherever he can get it. There's nothing funny about fluent dysphasia…
- Audience Award for Best Irish Short (Cork Film Festival 2004)

SPECIAL ENCORE PRESENTATION: RYAN

(DIRECTOR: CHRIS LANDRETH) - 2005 Academy Award Winner - Best Short Animation