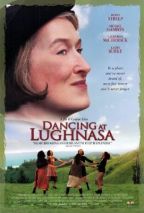 ` Meryl Streep has made many a grand acting gesture in her career, but the way she simply peers out a window in Dancing at Lughnasa ranks with the best. Everything the viewer need know about Kate Mundy, the woman she plays here, is written on that prim, lonely face and its flabbergasted gaze.
Among the five unmarried sisters who are the subject of Brian Friel's play (and who are named for his own mother and aunts), it is Kate who wears her unmarried status least comfortably. And it is Kate who radiates the most wistful, turbulent emotions while watching younger, prettier Christina (Catherine McCormack) dance with a lover.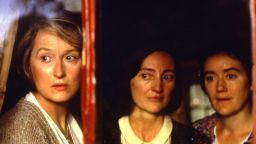 "Her whole face alters when she's happy," Kate whispers about Christina in astonishment, speaking almost to herself. It is as if this furiously upright schoolteacher, the sister who has taken it upon herself to champion rectitude in the small Irish village where Mr. Friel's play unfolds, had discovered the sweetness of Christina's flirtatious exuberance and the chill of her own loneliness as if for the very first time.
Set in Donegal in 1936 and made poignant by the hindsight of narration, Dancing at Lughnasa preserves the author's memories of a world about to change irrevocably, filled with hints of foreboding that made it so powerful an experience on stage. On film, as directed handsomely by Pat O'Connor, it makes for a soaringly scenic film, yet a slightly more diffuse, less haunted drama.

The play, an actors' heyday, is rich with memories of the sisters and their camaraderie, especially when their fragile fellowship is shaken by the arrivals of two men. While the film begins with a rich evocation of the sisters' rustic chores and rituals in the beautiful, isolated setting they call home, it's clear that these men can change everything. One is Father Jack (Michael Gambon), once the family's bright-eyed brother and now a broken old man, returning from missionary work in Africa and filled with visions of a world his sisters have never seen.
While Mr. Gambon's gently eccentric Jack presides over the story with a mysterious intensity, the other male visitor is more mundane. Gerry Evans (Rhys Ifans) is Christina's handsome, conventionally romantic beau (and the father of Michael, the young man who nostalgically narrates the story). The arrival of Gerry prompts the film into the very sorts of picturesque rhapsodies that give this opened-up drama its postcard appeal while removing the seriousness and sting from events that transpire. - New York Times [Janet Maslin]