Special Guest Gabriel Byrne - October 21, 2006

Dear Cine Gael Members,


We're delighted to announce that Gabriel Byrne, writer, director, producer, and actor with over 70 film credits has agreed to join us for a film and some talk.
This coming Saturday, October 21st, we will screeen his film Into the West (1992, 102 min), and he'll be there to talk about this film that he produced and starred in.
Gabriel Byrne will say a few words before the film with a longer Q & A session afterwards, followed by a chance for you to meet him and have some wine.
Read below how to reserve your place. See you at the movies.

The screening will be at our usual venue, the DeSeve Cinema in the Concordia Library building at 1400 de Maisonneuve W. The evening starts at 7:00pm
Important: We are giving reservation priority to our members who reply by the end of Wednesday; after that it's 'devil take the hindmost'. If you plan to come, please reply to this email now, and if you're a member, no later than Wednesday, October 18th. Leave the subject line as is, and give us your name and phone number, and the name of anyone else who will be joining you ...or phone 514 933-4956 with the same information.
The cost for the evening (film, meeting the star, and reception) is $10.
We will hold your tickets at the door and collect payment when you arrive.
Your tickets will not be held after 6:45pm, so come early.
--------------------------------------------------------------------------------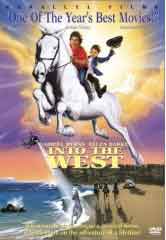 Into the West with Gabriel Byrne, Ellen Barkin, and David Kelly
Set mainly in the Ireland the tourist board didn't tell you about, Into the West is the story of a "traveling" family who have given up their traditional life of roaming, and find themselves trying to make it in the gritty, violent projects of Dublin. Gabriel Byrne is excellent as Papa Reilly, a once-proud father and leader whose grief over his wife's death has turned him into a booze-sodden has-been.

His two sons, Tito (Ruaidhri Conroy) and Ossie (Ciaran Fitzgerald), escape the projects on an apparently magical white horse, Tir Na Nog, which leads them back to the West. After being forced to steal the horse back from a wealthy and ruthless horse dealer, they are pursued across the increasingly beautiful landscape by virtually all the policemen in Ireland.

The much-loved actor David Kelly (Waking Ned Devine) does a nice turn as the grandfather, and Ellen Barkin is a surprising but believable choice as an old "traveling" friend of Papa Reilly. For better or for worse--mainly better--this is not the story Disney would have told: redemptive and uplifting at the end, it's realistic to the point of ugliness on the way there, with a style of cinematography that the Magic Kingdom has never been able to stomach.

Although Into the West has been marketed as a children's movie, it's unlikely that director Mike Newell ("Four Weddings and a Funeral", "Donnie Brasco") or screenwriter Jim Sheridan ("My Left Foot", "In the Name of the Father") intended Into the West as simply children's fare. This isn't just a film about two kids on the run with their beautiful, magical white horse. Other themes, targeted to adults, are present: dealing with grief, the clash of cultures with differing values, and the use of the police by the rich and powerful to enforce property rights in their favor.