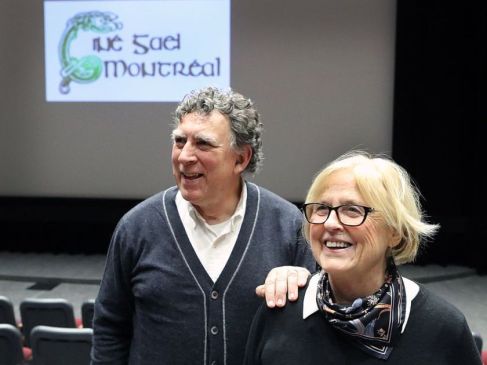 Co-founder and director Lynn Doyle with Ciné Gael's program director Tim Hine: the 25th edition of the festival kicks off Jan. 20 with The Young Offenders.
Neither despot nor diva, Lynn Doyle is unlike any film-festival director in this city — for that matter, probably unlike any fest boss anywhere on the planet. But Doyle has managed to steer Ciné Gael, Montreal's Irish film festival, to its 25th anniversary this year in her own low-key fashion.
Ciné Gale, co-founded by Doyle and the late Patrick Vallely, kicks off its season Friday with The Young Offenders, a comedic tale about a couple of ne'er-do-well Irish teens creating havoc on their bicycles in Cork.
This year's nine-film program, running until May 4, once again covers all aspects of the Irish film scene, from dramas to documentaries and animation, and showcases gems that would otherwise rarely show up on the commercial circuit this side of the pond.
This season's highlights include the provocative doc Bobby Sands: 66 Days (screening Feb. 3), focusing on the famed IRA leader who died on a hunger strike while imprisoned in 1981, and A Date for Mad Mary (screening May 4), a charming coming-of-age epic.
Unlike most in the rarified film universe, Doyle had never harboured any dreams about running a festival. Frankly, she was not even much of a film buff. She had been a high-school English and math teacher. She had also been a volunteer on the cultural committee of the St. Patrick's Society.
"At one of our meetings in 1992, someone suggested we should have Irish films in Montreal," Doyle recalls. "And that was it. I thought we could do that. Of course, I had no film experience whatsoever."
Shoestring budget
Naïve perhaps, but ever-persuasive. Since the inception of Ciné Gael, Doyle sets out every year, knocking on doors and frequenting festivals from Toronto to Galway, Ireland, in search of promising titles. Her task is made all the more daunting since distributors tend to want their films to be launched at more big-name festivals or larger screening venues.
Ciné Gael operates on a shoestring budget of $12,000 a year and gets support from, among others, the St. Patrick's Society and the embassy of Ireland (not to be confused with the Irish Embassy bar). Ciné Gael staff, including Doyle and program director Tim Hine, work pro bono.
'Made a connection'
Doyle also managed to persuade Lenny Abrahamson, director of the Oscar-nominated Room, to present his first three films – Adam & Paul, Garage and What Richard Did – at the Ciné Gael. "I happened to be at the Galway film festival in 2004. When they announced the winner of the best film from a new director, this fellow, who was sitting right beside me, got up to get the award and it was Lenny Abrahamson.
"He had just gotten into film," Doyle adds. "He had been at Stanford studying philosophy, and suddenly gave that up to make films back home in Ireland. So we made a connection, showed his first three films and kept inviting him over here. Hopefully, we'll get him to come in person."
If the Ciné Gael gang is unable to get the directors to show up in person for Q&As following the presentations, they invariably have them hook up with local audiences via Skype — as has been the case with Abrahamson.
Ciné Gael has also had its share of distinguished audience guests: Pierre Trudeau showed up for a screening of Othello, which featured his friend Suzanne Cloutier. Famed Irish thesp Stephen Rea paid a visit, as did Oscar-winning animator and Concordia grad Torill Kove – her Oscar for The Danish Poet in tow.
"If we've been able to land some wonderful films, it's due to the fact that along the way I amassed some really good committee people who were so efficient," Doyle says. "Half of them have PhDs in film or are working on them. We have come a really long way.
'Smooth sailing'
"When Patrick died four years ago, it was a very sad time. But then Tim Hine stepped aboard as a program director, and it's been smooth sailing. I'll be slowly handing the reins over to him."
Doyle did not initially realize Hine was an Englishman.
"As for an Englishman working at an Irish film festival, I did feel the need to address the elephant in the cinema, as it were, particularly when hosting the proceedings for the 1916 centenary (of the Easter Rebellion) and particularly after mispronouncing the Irish ambassador's name," Hine notes.
"But I have been welcomed as only the Irish can do. I was brought in by Patrick (Vallely), who made it great fun and who gave me an earthy, intellectual education on Irish history and the arts. One doesn't have to be Indian to love the food or culture, and the Irish contribution to drama and literature is as rich as any country."
While Doyle knew little about Irish cinema before undertaking Ciné Gael, she has become rather knowledgeable on the subject and is quite the fan.
"What I love about Irish films is that they are a little bit quirky and a little bit dark but so wonderfully convey aspects of Irish life," says Doyle, whose family moved here from county Tipperary in 1825 and who served as chief reviewing officer at last year's St. Patrick's Day parade.
"But what has been so gratifying for us is that these films have found an audience here who just love them and who just keep coming back for more. It may not be the largest of festival audiences, but it has to be one of the most faithful. That's really what keeps us going."
Original URL:
https://montrealgazette.com/entertainment/movies/cine-gael-montreals-irish-film-festival-turns-25